I'm inspired by the stores I've been finding lately. I've written about cool independent stores before, but the frequency of my encounters with them has increased dramatically and the stores have been getting more international. Most of them I find through Wanelo; a few via Instagram. I'm unsure how people discover cool stores elsewhere on the internet currently, other than the occasional Google search and clicks within the walls of marketplaces.
Nine products from nine of these cool stores: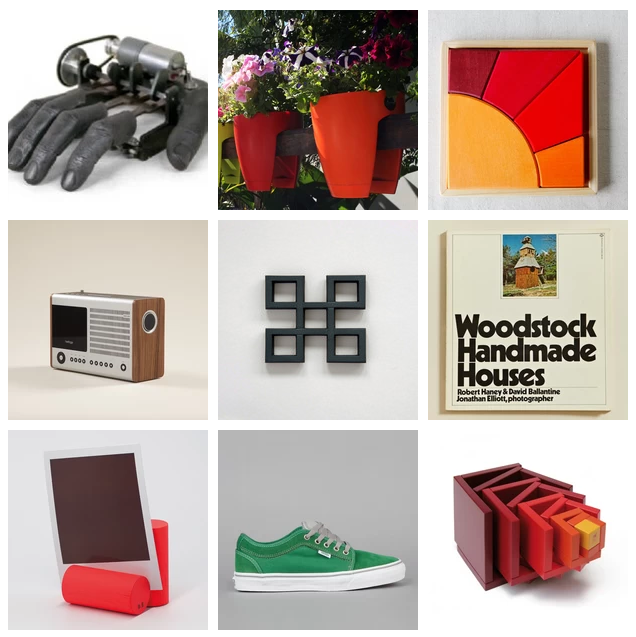 ◦ Laikingland sells finely crafted kinetic objects, and creepy ones like these disembodied drumming fingers.

◦ CKIE, pronounced "seeky," is the ecommerce extension of Yanko Design web magazine (blog). It's named after Ruth Noller's symbolic equation for creativity, C=f(K,I,E), which holds that creativity (C) is a function of knowledge (K), imagination (I) and evaluation (E). They sell the kind of eye-catching things people like to share on the internet.

◦ More & Co. is a bright, designy shop and creative studio in Portland, Maine. Well aware of the importance of visuals in this game, their product photos are huge.

◦ Portland, Maine also happens to be the homebase of another favorite coolstore: Wary Meyers. Their blog is as interesting as their store (almost one and the same, as with a lot of these stores), and has so far led me to track down and watch at least three movies almost solely for the furniture: Play It Again, Sam (Woody Allen in San Francisco!), Emmanuelle (more stylish than I remembered it from Showtime in the '80s) and Model Couple (1977), which really resonates these days:

◦ Generalgood is "an online store that stocks a diverse range of products from around the world, designed for life, crafted with care and built to last." These include 1960s-style digital radios and hermetic bottle resealers. Sort of on their way to becoming a British Best Made Company.

◦ See also Labour and Wait, who "believe in a simple, honest approach to design, where quality and utility are intrinsic." Think giant aluminum dustpans, bright tool bags and Stanley steel pocket flasks.

◦ Everyday Needs is yet another store "for people who want to make informed decisions in their consumption, ensuring that what they get is not only good-looking, but is carefully manufactured and with a quality that will last the test of time." They sell many beautiful, useful objects out of New Zealand.

◦ And The Minimalist out of Sydney is "all about beauty, quality and style with a handmade touch." They can make you want to buy paper weights and magnetic towers.

◦ LN-CC stands for "LATE NIGHT CHAMELEON CAFE" in all caps and is a far-out-looking store space (see below) in London with a mystical library, clothes and records you can peruse in person by appointment.

At first glance, the LN-CC site looks like many high-end fashion stores, but they grabbed hold of my attention with their excellent book selection which includes at least one category close to my heart (1970s utopian living classics OMG).

◦ Flatspot is another legit store in England (Devon) selling some hard-to-find kicks.

◦ Marchandise of Montreal sells "carefully picked objects of desire," photographed against bright backgrounds that stand out around the internet.

◦ Papa Foxtrot is a toy company dedicated to the modern marvels of infrastructure, teaching the world about satellites and container ships. Their toys are now stocked in Paul Smith stores, among other places around the planet.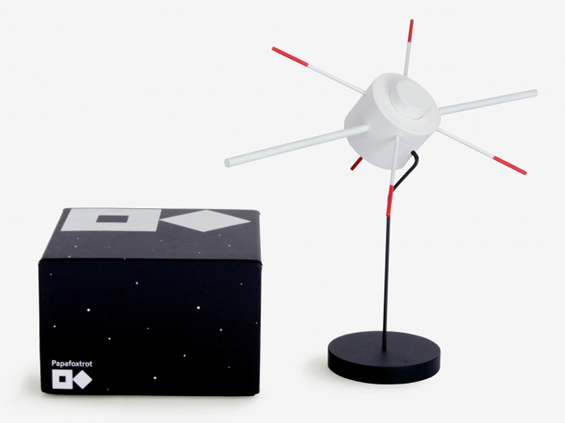 Incidentally, a Paul Smith store in London is also hosting an exhibition featuring another coolstore all-time fave: das programm.
◦ Finally, MODULE R is a highly likeable store out of Brooklyn specializing in "customizable, interactive and modular" objects.
These stores are like blogs or editorial operations that sell things, and sometimes pay rent. Shopping online is finally starting to feel like the entertainment it is in the real world.