For all the dorks like myself who obsess about notebooks, this post is for you.
Full disclosure: I tend to be partial to notebooks of the pocket-sized, reporter-style, durable, flexible, wirebound and blank variety, but I use and sample all kinds. To my mind there are two types of notebooks: portable and desktop. Portable notebooks should be easy to carry around and fit comfortably in your pocket. Which pocket you use, and therefore which notebook, can depend on the season. In the warm months I require a slim, flexible notebook for my back pocket. In the winter, a harder-backed notebook can go into my inside coat pocket. Many notebooks that are marketed as portable—hello, Moleskine—are actually desktop notebooks in my opinion because they don't fit comfortably in your pocket. They have their place.
Moleskine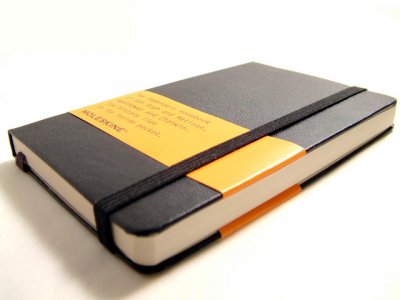 Let's get this out of the way: Moleskines are vastly overrated. Sure, they look nice but how functional are they really? I like a strong notebook that I can bend back. Moleskines can be laid flat but won't bend over backwards for you. They don't fit comfortably in your pocket. And for those who have bought into the Moleskine brand mythology, note that Hemingway, Picasso and Matisse did not in fact use Moleskines. Dave Eggers, Neil Gaiman and countless bloggers do, to some folks' dismay. Black Cover is an entire blog dedicated to uncovering superior Moleskine alternatives.
Pluses: Pretty. Moderately hackable.
Minuses: Unoriginal. Low-quality paper that can't handle fountain pens, so pen nerds shun them (pen reviews is another post).
Muji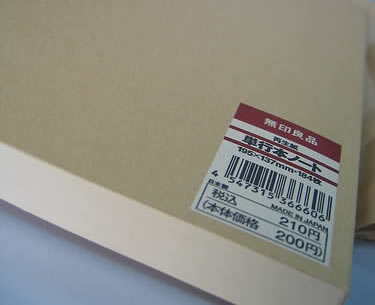 Muji—short for Mujirushi Ryohin, or "brandless quality goods"—has been taking the American notebook-nerd market by storm. As they say on their website, "Muji, the brand, is rational, and free of agenda, doctrine and 'isms.' The Muji concept derives from us continuously asking, 'What is best from an individual's point of view?'" Designer types are entranced by Muji's intense minimalism. Their chrononotebook makes people giddy.
Pluses: Free of artifice. Also cheap! Many of their notebooks are $1.
Minuses: Very few. Available in New York at the MoMA Store, Muji Soho and inside the New York Times Building.
Rhodia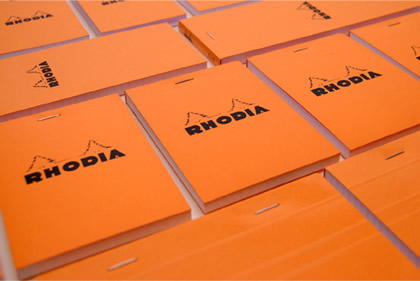 Rhodia is an iconic French brand of notebook whose design has been unchanged since the 1930s.
Pluses: Striking. Orange. Endorsed by poet-blogger Ron Silliman.
Minuses: Too clunky for portable use.
Apica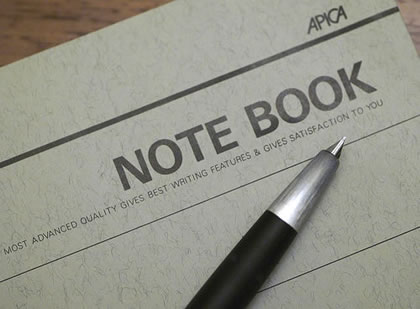 The tagline on this Japanese brand of notebooks says it all: "MOST ADVANCED QUALITY GIVES BEST WRITING FEATURES & GIVES SATISFACTION TO YOU." Apica notebooks have a devoted cult following.
Pluses: Ultra high-quality paper.
Minuses: Their portable model, the CD5, is a bit too small for serious note-taking.
Miquelrius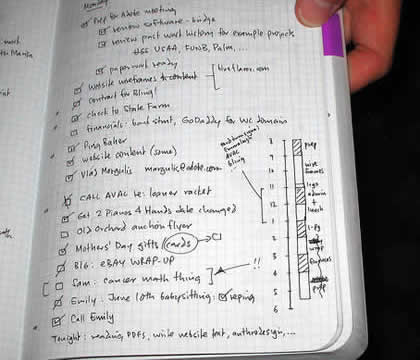 Barcelona-based Miquelrius notebooks first came to my attention as the platform for Bill Westerman's paper-based time management software, above.
Pluses: Like Moleskine but much more flexible, with higher quality paper.
Minuses: Pages won't lay flat. Owners of the most annoying website in the world.
Tyler Bender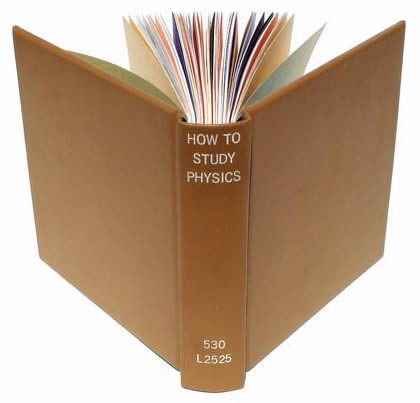 Tyler Bender's handmade notebooks, made out of old hardcover books, sell out fast on Etsy and for good reason. They're one-of-a-kind, can hide well on any bookshelf and are made of fascinating things.
Pluses: See above.
Minuses: Hard to come by. I recommend subscribing to his shop's feed if you want in on the next batch.
Ecoteca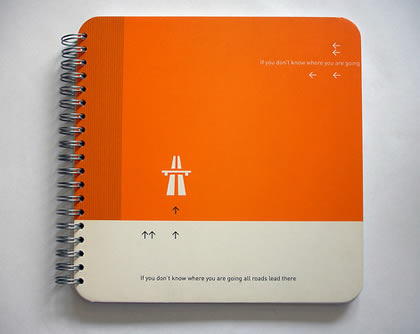 Ecoteca was a sturdy and stylish Portuguese brand of notebook that now appears to be defunct.
Pluses: Rounded corners.
Minuses: Impossible to find.
Field Notes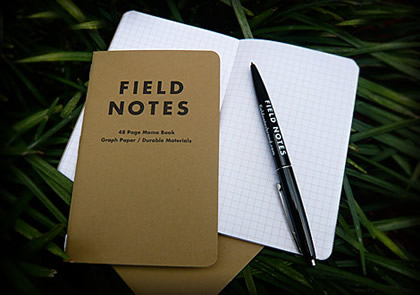 Field Notes made a splash last year on the back-to-paper and get-things-done (GTD) scene, when they started showing up on blogs like Lifehacker. Launched by Coudal Partners, some people find the brand a bit cloying.
Pluses: Pocket-friendly. Heavy paperstock. Futura typeface.
Minuses: Seemingly designed with Urban Outfitters in mind. Tries too hard. Staplebound.
Rite in the Rain® Field-Flex Notebooks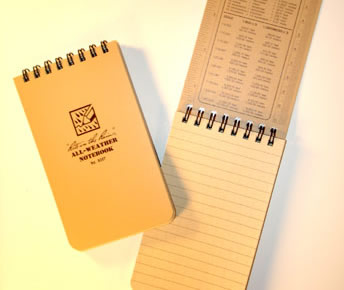 My current favorite, Rite in the Rain notebooks are 1.) sturdy as hell and 2.) can be used in the shower, where many people get their best ideas. Seriously, recommended.
Pluses: Waterproof authenticity.
Minuses: None.
Ciak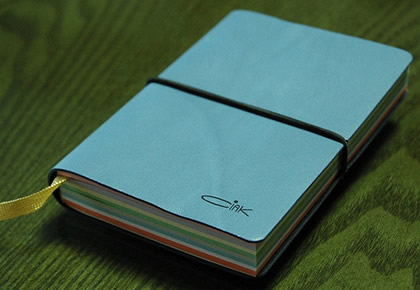 Ciak is an Italian brand of notebook determined to take on Moleskine.
Pluses: Closes with a sensible horizontal elastic band.
Minuses: Too thick for portable use (twice the thickness of a Moleskine). A bit overzealous in their marketing.
Kokuyo Fieldnote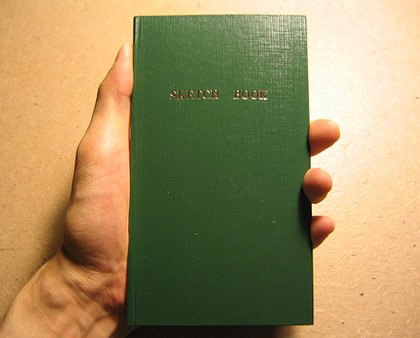 The brand of choice for Japanese productivity junkies, Kokuyo makes hyper-functional notebooks for engineers and surveyors.
Pluses: Pocket-size. High-quality paper. Durable green cover.
Minuses: Only available in Japan.
Stifflexible by Mazzuoli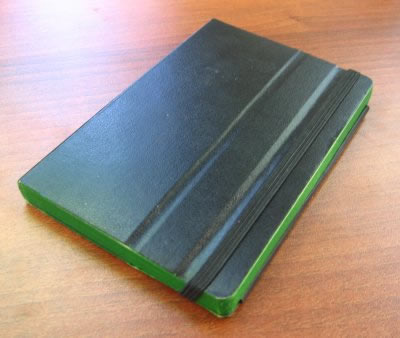 Hailed by some as the perfect notebook, the Stifflexible was the inspiration behind the Black Cover blog, for whom they were resurrected after being discontinued. Two built-in creases on the front and back covers allow this handsome Italian notebook to be flipped through and searched without opening it. According to legend, Giuliano Mazzuoli got the idea after finding a book from the 1700s in a Florentine library with a similar design.
Pluses: Stiff yet flexible. Pages open flat. Back flap can be used as a bookmark. Made entirely in Italy. Not a Moleskine.
Minuses: The newer versions don't have the creamy paper or colored page edges of old.