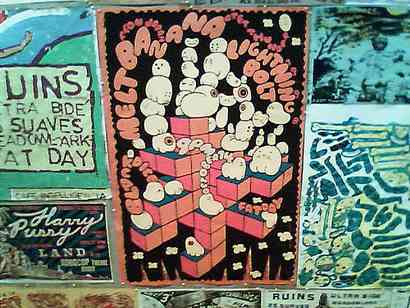 Providence types may be interested in this set of shoddy cameraphone pics I just uploaded to Flickr. They were surreptitiously taken at the RISD Museum's blow-out exhibition, WUNDERGROUND: Providence, 1995 to the present.New York-based Providence types may be interested in the fact that tonight, October 10, Gary Panter and Matt Groening will be riffing off each other at the 92nd Street Y. Panter was kind enough to answer some questions for the 92Y Blog, and he also wrote the foreword to the Wunderground exhibition catalogue. Here's how the "father of punk comics" speaks of the "Providence aesthetic":
The punks were kind of grey ironic insincere killers of Pepperland, too. Energetic, but sometimes lacking color. Then punk, which predicted NO FUTURE, lasted thirty years, and then finally, but not lastly, when you least expected it, along comes FORT THUNDER!!! SPACE HIPPIES IN ARCHIGRAM CRAWLING CITIES once again. WOOKIE YETI QUISP HOLODECK RAINBOW CRAWLING CITIES. CHECK IT OUT. BE THERE OR BE SQUARE!"
Interrelated: Lightning Bolt x Muppet Bolt on YouTube.